What I'm Reading, June 2014
June 22, 2014 at 9:31 PM
Here are the books I've read and especially admired in recent months, December 2013–June 2014.
Steve Jobs by Walter Isaacson, biography
Mandela's Way: Fifteen Lessons on Life, Love, and Courage by Richard Stengel, memoir, inspiration  
Someone by Alice McDermott, fiction
The Tender Bar by J.R. Moehringer, memoir
A Prayer for Owen Meany by John Irving, fiction
The Maid's Version by Daniel Woodrell, fiction
We Are All Completely Beside Ourselves by Karen Joy Fowler, fiction
Dear Life by Alice Munro, short stories, Nobel Prize in Literature
The Decoding Solution: Rime Magic and Fast Success for Struggling Readers by Sharon Zinke, professional
A More Beautiful Question: The Power of Inquiry to Spark Breakthrough Ideas by Warren Berger, nonfiction/professional
The Lowland by Jhumpa Lahiri, fiction
The Tenth of December by George Saunders, short stories
Transatlantic by Colum McCann, fiction
Talk Like TED: The 9 Public-Speaking Secrets of the World's Top Minds by Carmine Gallo, professional, advice
The Empathy Exams by Leslie Jamison, essays
Flora & Ulysses by Kate Di Camillo, children's fiction, Newberry Medal
The Boys in the Boat: Nine Americans and Their Epic Quest for Gold at the 1936 Berlin Olympics by Daniel James Brown, nonfiction narrative
The Art of Aging: A Doctor's Prescription for Well-Being by Sherwin B. Nuland, nonfiction/advice
Touching Spirit Bear by Ben Mikaelsen, YA fiction
Home Cooking: A Writer in the Kitchen by Laurie Colwin, food memoir
Stargirl by Jerry Spinelli, YA fiction
Americanah by Chimamanda Ngozi Adichie, fiction
As on previous lists, I found all the titles to be excellent. Several are especially wonderful for vacation and relaxation reading when you want a riveting story that is beautifully crafted. The following books, all told from distinctive points of view, will take you on a memorable literary, cultural, historical, and/or personal journey: Americanah by Chimamanda Ngozi Adichie, The Boys in the Boat by Daniel James Brown, We Are All Completely Beside Ourselves by Joy Fowler, The Lowland by Jhumpa Lahiri, Transatlantic by Colum McCann, and The Maid's Version by Daniel Woodrell—great books all.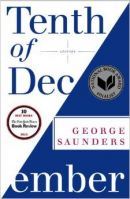 My absolute favorite book on the list is The Tenth of December by George Saunders, considered by many to be today's finest short story writer. The stories are a challenging read in that the writing is unexpected and unsettling. Saunders's stories are on the dark side; that is, although there are hopeful characters in his stories, most of these characters show us the less than admirable side of human nature. Many of these somber stories deal with power, race and class, and despair. Yet the book is an exhilarating read because the writing is eloquent, the form original, and the humor and word play alluring. The dialogue and the characters' feelings ring true. Saunders understands the worst and best of human behavior, and the genuineness he conveys about life is uplifting, not depressing. In a review of The Tenth of December in The New York Times, Gregory Cowles ends with these words: 
Why the 10th of December? It's not the solstice yet; the days are drawing shorter, but things aren't as dark as they could be; even now, there's still a glimmer of hope.
The first story and the last seem to serve as hopeful bookends; I did a close reading on the first story, "Victory Lap", and the last one, "Tenth of December." I reread the first story because I was enchanted with the uniqueness of it and wanted to savor it all over again. I reread the final story because I wasn't sure I had fully understood it, and wanted to be sure I didn't miss anything. As I was reading the entire book—and often I was reading like a writer—I kept asking myself, "How does Saunders do that?" which caused me to reread, not just for meaning but also for noticing the exquisite crafting of language and form.
Partly because of the gravity of Saunders's stories, it's a relief and a good balance to also read Saunders's stirring commencement address. Speaking to the 2013 graduates of Syracuse University, where he is a distinguished professor of writing, Saunders gives the graduates advice that centers on the importance of kindness. I've reread it several times and found it inspiring each time. See also "George Saunders Has Written the Best Book You'll Read This Year," an outstanding article from The New York Times Magazine that provides fascinating insight on Saunders as an author and human being. Note, too, that there is also an audio version of the Tenth of December and the book is aptly read by Saunders himself.
Saunders is such an assured and gifted writer that you know you are in the hands of a master. To gain further insight into Saunders, the man and the writer, read the paperback version of The Tenth of December, which includes a fascinating conversation between Saunders and David Sedaris. Acknowledging that some readers may find his stories "a bit cruel," Saunders notes "I'd argue that my stories are a good deal less cruel than the real world at its cruelest."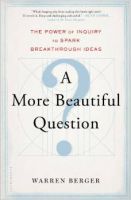 Another book I want to call out for special mention is A More Beautiful Question: the Power of Inquiry to Spark Breakthrough Ideas by Warren Berger. I found this fascinating book provocative and incredibly useful for thinking about and asking more important questions in all aspects of our lives. Asking questions is an art, and Berger helps us get better at it. For example, he recommends we ask "Why?" "What if. . ." and "How might we. .   .?" when problem solving. He suggests that asking "How might we?" defers judgment and opens up the conversation while "How can we?" or "How should we?" implies judgment, which makes others less likely to contribute their ideas. The book is worth reading just for the extensive "Index of Questions." Those questions are all compiled from the actual questions that ordinary and remarkable individuals asked that led to changes in their thinking, which ultimately resulted in new actions, ideas, inventions, policies, information, and myriad accomplishments both big and small. Berger embeds many of those "more beautiful questions" in a riveting true story.
Commentary: Let's Be Smart About Teaching Close Reading
Now that close reading, formerly called analytic reading, is part of the standards adopted by most states in the U.S. (Common Core State Standards or CCSS), many teachers are explicitly teaching it. However, not every text deserves a close reading, which almost always means a second reading and/or a slowed-down, extra-careful reading. According to the CCSS for Language Arts, close reading involves determining what the text explicitly says, making logical inferences from that text, and backing up those thoughts with evidence from the text.
I believe close reading depends on an excellent and relevant text that is well organized, well written, and worth our students' time and effort. One way thoughtful teachers encourage close reading is by the depth of the questions they pose to students and the questions they teach students to ask themselves as they read. If those questions are trivial or overly focused on details and isolated facts or if the text isn't worthwhile, close reading is not necessarily beneficial or the best use of students' time.
Like all reading that we do, our purpose determines how we read, whether that purpose is to enjoy a text on our own terms, to analyze it for a classroom discussion, or to comprehend it on a deeper level. Often when reading, it can be more appropriate to skim, scan, or read just once. Sometimes, we combine leisure reading with close reading; that is, we are going along fluently reading for pleasure when something in the text causes us to want to reread, analyze, think deeper, and slow down.
Close reading is not the end goal. It's reading for pleasure and information, always with the goal of understanding and coming away from a text somehow enriched, more curious, learned, and satisfied. When we focus on teaching close reading, let's be sure we keep the awareness on important ideas, what those ideas mean, and why they matter. We also need to give our students ample time for consideration and discussion of those ideas.
Tags:
Category: My Reading
blog comments powered by

Disqus